Zico Is A Leading Manufacturer Of Fire & Safety Equipment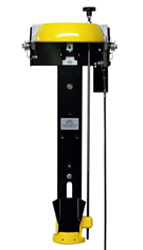 For over fifty years Ziamatic Corp has provided the men and women of emergency services with the equipment they need to make their jobs safer, easier and more efficient. We're proud to offer a wide range of economical, high quality, and innovative products designed to exceed the demands of this ever-evolving industry. From SCBA brackets to forcible entry tools, ladder access systems to wheel chocs, if you want quality, you want Zico.
Accept No Substitutes
Our yellow & black color scheme is iconic—and often imitated. How do you know if your product carries over 50 years of experience in its design? Simple. Just look for the Ziamatic name. Every one of our products is either stamped or labeled with our name and/or logo. If you can't find one then it's most likely not us, and you're missing out on the long-lasting, dependable quality you deserve.
Want To Try Before You Buy?
On the fence about a purchase? Try it first! Want to compare and contrast? Go for it! You can request a 30-day "test & evaluation" period for hundreds of Zico products. For more information contact your local dealer, or give us a call at 1-800-711-FIRE.
Featured Products